Met wie speel ik?
Met hoeveel zijn we?
Nederlands of Engels?
Uitbreidingen tonen?
Mesozooic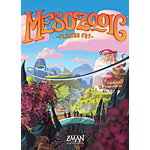 The age of the dinosaurs is back — this time safely behind glass! Build the best dino zoo and impress your guests in a frantic, real-time puzzle game.

Dinosaurs are back and the world is clamoring to see them! In Mesozooic, it's your job as the director to plan and construct a zoo that will surpass any others. Fill your zoo with a variety of crowd-pleasing features: wow your visitors with towering dinosaur enclosures, entertain them with prehistoric attractions, and let them travel around the zoo in style on a network of monorails.

The highlight of the zoo is, of course, the dinosaurs themselves! Let guests come face to face with these creatures from another age. Create the perfect environment for gentle herbivores or powerful carnivores, each in their own enclosure. Each completed enclosure will score points.

Careful planning and quick thinking can give you the edge. Astonish guests with the amazing creatures from a land before time. Will guests flock to your dinosaur zoo?
| | |
| --- | --- |
| Prijs | € 15 |
| Uitgever | Z-man Games |
| Leeftijd | Vanaf 8 jaar |
| Spelers | 2 tot 6 spelers |
| Tijdsduur | 20 min |
| Taal | Engels |
| Taalgebruik | Taalonafhankelijk. |
| Auteur | Florian Fay |
| Uitgegeven in | 2018 |
| EAN code | 841333106638 |