Met wie speel ik?
Met hoeveel zijn we?
Nederlands of Engels?
Uitbreidingen tonen?
Megaland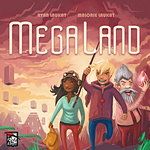 Are you ready to run? Push your luck in the video game world of Megaland to fight monsters (and bunnies) and collect coins!

At the start of each round, each player places their character on the level tile, then draws one treasure and places it above their character board. Once everyone does this, draw the topmost level card to see whether players suffer damage from the monster on it. Players can then decide whether to leave the round and bank their treasures, or whether to press on; if they go on, they draw another treasure card, then reveal the next level card. If you take total damage equal to your number of hearts, you fail and are out of the round, losing any treasure that you had.
| | |
| --- | --- |
| Prijs | 'ā¨ 27 |
| Uitgever | Red Raven Games |
| Leeftijd | Vanaf 8 jaar |
| Spelers | 2 tot 5 spelers |
| Tijdsduur | 20 min |
| Taal | Engels |
| Taalgebruik | Beperkte hoeveelheid tekst. |
| Auteur | Ryan Laukat, Malorie Laukat |
| Uitgegeven in | 2018 |
| EAN code | 040232695001 |