Met wie speel ik?
Met hoeveel zijn we?
Nederlands of Engels?
Uitbreidingen tonen?
Max de Kat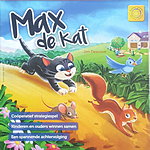 There are four animals in the game. All the players become responsible for the bird, mouse, and chipmunk's safe journey to their home in a tree at the end of the gameboard path. Unfortunately the tomcat "Max" is a natural hunter and chaser (he can't help himself) and is a continual threat. The goal is for the players to work together to get the three animals to the safety of the tree.

All the animals move based on random dice rolls. Two singular colored pips are possible, green and black, and are evenly distributed on the two dice. A black pip moves Max one space, while green pips can be distributed by player consensus (teaches logic, consultation and decision making) among the other animals to move them. Obviously Max has a better chance to move, more often and further than the others creatures who share the green pip rolls. On the other hand Max can only move forward, as well the players can opt to move their animals before or after Max. The players also have the option of using four cat treats to call Max back to the starting position, allowing the other animals to escape possible capture or lengthen their lead.
| | |
| --- | --- |
| Prijs | 'ā¨ 22 |
| Uitgever | Sunny Games |
| Leeftijd | Vanaf 4 jaar |
| Spelers | 1 tot 8 spelers |
| Tijdsduur | 20 min |
| Taal | Nederlands Frans Engels Duits |
| Taalgebruik | Taalonafhankelijk. |
| Auteur | Jim Deacove |
| Uitgegeven in | 1986 |
| EAN code | 9789079629015 |