Met wie speel ik?
Met hoeveel zijn we?
Nederlands of Engels?
Uitbreidingen tonen?
Lancaster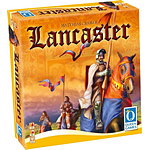 In 1413, the new king of England, Henry V of Lancaster, has ambitious plans: The unification of England and the conquest of the French crown! Each player takes the role of an ambitious aristocratic family. Who will be the best supporter of this young king, and the most powerful Lord of his time?

In Lancaster the players want to proceed from simply being a Lord to the most powerful ally of the king. They may achieve this by developing their own knighthood as well as by clever deployment of individual knights in the counties of England, at their own castle, and to conflicts with France. In parliament, they try to push laws from which they will benefit themselves most. The player with the most power points at the end of the game is the winner.
| | |
| --- | --- |
| Prijs | 'ā¨ 39 |
| Uitgever | Queen Games |
| Leeftijd | Vanaf 10 jaar |
| Spelers | 2 tot 5 spelers |
| Tijdsduur | 90 min |
| Taal | Nederlands Frans Engels Duits Italiaans Spaans |
| Taalgebruik | Taalonafhankelijk. |
| Auteur | Matthias CramerMatthias Cramer |
| Uitgegeven in | 2011 |
| EAN code | 4010350607213 |