Met wie speel ik?
Met hoeveel zijn we?
Nederlands of Engels?
Uitbreidingen tonen?
King of the Creepies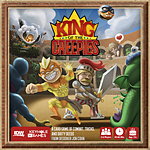 In King of the Creepies, up to six players try to build their ultimate teams by collecting creepie cards and outfitting them with gear and special abilities to fight in fast-paced battles. Players bet their hard-earned monies in the hope of buying the perfect cards to crush their enemies, but goblins are always hiding just out of sight to cause all sorts of mischief! Bet, bribe, and battle your way through the marketplace and the arena to become the King of the Creepies!

Each round of the game is played in three phases. In the market phase, players buy and sell cards to try to assemble a team of well-equipped creepies. In the match phase, players reveal their chosen combatants, then bet their monies on the outcome; after bets have been placed, a mischief card is drawn, which affects the battle in an unpredictable way. The battle phase is where the majority of the game takes place. Players battle each other using one of thirty unique creepies, using gear, items, and special abilities to help their cause. The winner earns a victory crystal, and whoever collects five crystals first wins!
| | |
| --- | --- |
| Prijs | 'ā¨ 42 |
| Uitgever | IDW Games |
| Leeftijd | Vanaf 12 jaar |
| Spelers | 2 tot 6 spelers |
| Tijdsduur | 20-60 min |
| Taal | Engels |
| Auteur | Jon Cohn |
| Uitgegeven in | 2017 |
| EAN code | 827714012965 |