Met wie speel ik?
Met hoeveel zijn we?
Nederlands of Engels?
Uitbreidingen tonen?
Cosmic Encounter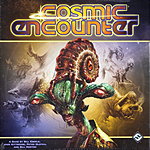 Take the shape of one of over 50 different alien race in this new version of the 1970's classic updated by
fan favorite designer Kevin Wilson (Arkham Horror). Each turn players will seek to expand their empire
by attacking or negotiating in order to build colonies on enemy planets. Every alien race has a unique
ability which breaks the rules in some way.
Color codes on for each race allow players to choose the difficulty level of the game they wish to play.
Flare cards expand the aliens powers, and can grant access to super powers if they can acquire their
personal flare. Cosmic Encounter promises no two games to be alike, and each game will pit you against
new challenges from each player.
In this edition of Cosmic Encounter are all new plastic ships! These highly detailed spacecraft easily
stack up to five high. The aliens themselves get a facelift, as all 50 races have new art and updated rules!
| | |
| --- | --- |
| Prijs | 'ā¨ 67 |
| Uitgever | Fantasy Flight Games |
| Leeftijd | Vanaf 12 jaar |
| Spelers | 3 tot 5 spelers |
| Tijdsduur | 60-90 min |
| Taal | Engels |
| Taalgebruik | Tekst intensief. |
| Auteur | Bill Eberle, Jack Kittredge, Bill Norton, Peter Ol |
| Uitgegeven in | 2008 |
| EAN code | 9781589944961 |