Met wie speel ik?
Met hoeveel zijn we?
Nederlands of Engels?
Uitbreidingen tonen?
Puerto Diablo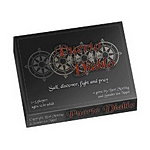 The setting is the Caribbean 1663. Four nations try to establish themselves on the various islands. Power and money are the goals. On lower levels people try to survive, and achieve personal gain wherever possible. This is the game of those people, who need to overcome challenges, together, but when the opportunity to back stab arise, they will!



The players start with a deck of characters and skills and will improve this deck during the game. The players need to cooperate because they cannot solve most challenges of the game alone. However, this is not a cooperative game... Alliances will be short lived. Heartless betrayal can win you the game, but could also turn against you at the worst possible moment.



The game starts with improving the deck of the player, and in the second half, the players will start to buy victory points. These can be gained if a player has gathered a lot of experience in one of the eight game specializations. Because players face challenges together, they will discuss who is going to help. During that, important, phase of the game, the players can play action cards (skills) whenever they want.



Puerto Diablo has no player turns — you act when you want to!
| | |
| --- | --- |
| Prijs | € 22.5 |
| Leeftijd | Vanaf 10 jaar |
| Spelers | 2 tot 5 spelers |
| Tijdsduur | > 90 min |
| Taal | Engels |
| Taalgebruik | Beperkte hoeveelheid tekst. |
| Auteur | Bert Menting |
| Uitgegeven in | 2015 |
| EAN code | 8717953214102 |