Met wie speel ik?
Met hoeveel zijn we?
Nederlands of Engels?
Uitbreidingen tonen?
First Train to Nuremberg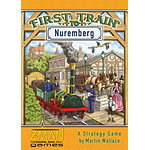 During the second third of the 19th century, a rapid development of railway transport got under way. All over the world, the railway networks were growing and steam engines accelerated the progress. 175 years ago, on December 7 1935 to be precise, the first German train powered by a steam engine started operating between Nuremberg and Fürth, transporting passengers and goods. In England's region of Wensleydale transport of goods via railway tracks was started 13 years later.



Your company is far too small to be able to have its own engine works, so contacts with the major operators will help you acquire second-hand trains and rolling stock. You will also need to be on good terms with the two local railway companies. Without their support you will not be able to link to their networks, nor will you be able to negotiate the sale of your lines when they become unprofitable (as they surely will). With First Train to Nuremberg now two players can fully enjoy this extraordinary train game as well. Instead of cheese and stone, now beer and post will be transported, besides passengers of course. There is a new challenge when transporting passengers: they can travel first class now and thus you will gain more victory points but on the other hand, you have to buy trains that are more expensive.
| | |
| --- | --- |
| Prijs | € 34 |
| Uitgever | Argentum Verlag |
| Leeftijd | Vanaf 12 jaar |
| Spelers | 2 tot 4 spelers |
| Tijdsduur | 60-90 min |
| Taal | Engels Duits |
| Taalgebruik | Taalonafhankelijk. |
| Auteur | Martin Wallace |
| Uitgegeven in | 2010 |
| EAN code | 4250148200114 |