Met wie speel ik?
Met hoeveel zijn we?
Nederlands of Engels?
Uitbreidingen tonen?
Defenders of the Realm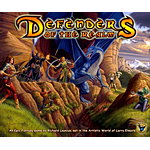 Defenders of the Realm is a cooperative fantasy board game in which 1-4 players take a role as one of the King's Champions (Choose from Cleric, Dwarf, Eagle Rider, Paladin, Ranger, Rogue, Sorcerer and Wizard). You, as one of the King's Heroes make use of strategy, special abilities, cooperation, card play and a little luck in Defenders of the Realm for a unique experience every adventure. But be forewarned! There is never time to rest. As each Enemy General is struck down in battle, the remaining dark forces only grow more difficult to vanquish and their march to Monarch City gets faster with each Hero victory!
| | |
| --- | --- |
| Prijs | € 99 |
| Uitgever | Eagle Games |
| Leeftijd | Vanaf 12 jaar |
| Spelers | 1 tot 4 spelers |
| Tijdsduur | 60-90 min |
| Taal | Engels |
| Taalgebruik | Beperkte hoeveelheid tekst. |
| Auteur | Richard Launius |
| Uitgegeven in | 2010 |
| EAN code | 718122625949 |