Met wie speel ik?
Met hoeveel zijn we?
Nederlands of Engels?
Uitbreidingen tonen?
1754: Conquest – The French and Indian War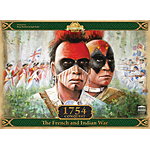 It is 1754 and both France and Britain have thriving colonies in North America. New England has begun expanding into the Ohio River Valley but France has built a chain of forts extending from Lake Erie to protect their own claim on the land. Now fighting has erupted. France and its Native American Allies control the Ohio Valley but George Washington prepares an army to take it from them. A small war has started in the colonies between France and Britain but control of the world is at stake.

In 1754: Conquest – The French and Indian War, players play as the French and British Factions who fought for dominance over the Americas. This war is known as the French and Indian War in the United States, the War of Conquest in Canada and was part of the Seven Years War which was fought around the world by the European Powers. The French players either play as the French Canadian Militia or the French Regulars. The British players play as the British Colonial Militias or the British Regulars. Both players can ally and fight with the Native Americans but the French start with more Native Allies.
| | |
| --- | --- |
| Prijs | € 70 |
| Uitgever | Academy Games |
| Leeftijd | Vanaf 10 jaar |
| Spelers | 2 tot 4 spelers |
| Tijdsduur | 60-120 min |
| Taal | Engels |
| Taalgebruik | Beperkte hoeveelheid tekst. |
| Auteur | Beau Beckett, Jeph Stahl |
| Uitgegeven in | 2017 |
| EAN code | 736211996787 |