Met wie speel ik?
Met hoeveel zijn we?
Nederlands of Engels?
Uitbreidingen tonen?
Last Bastion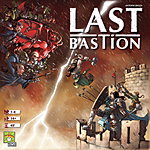 Last Bastion is a cooperative game in which the players take on the roles of heroes defending an ancestral Bastion against the monstrous hordes of the Baleful Queen.

In this medieval fantasy version of Ghost Stories, the game alternate between the horde phase and the heroes phase.

During the horde phase, a new monster is added and monsters effects are activated.

During the heroes phase, players make one optional move and one heroic action.

The game is won by killing the Baleful Queen in less than 9 turns.


| | |
| --- | --- |
| Prijs | 'ā¨ 41 |
| Uitgever | Repos Production |
| Leeftijd | Vanaf 14 jaar |
| Spelers | 1 tot 4 spelers |
| Tijdsduur | 45-60 min |
| Taal | Engels |
| Taalgebruik | Taalonafhankelijk. |
| Auteur | Antoine Bauza |
| Uitgegeven in | 2019 |
| EAN code | 5425016923290 |